Beth Kamunge-Kpodo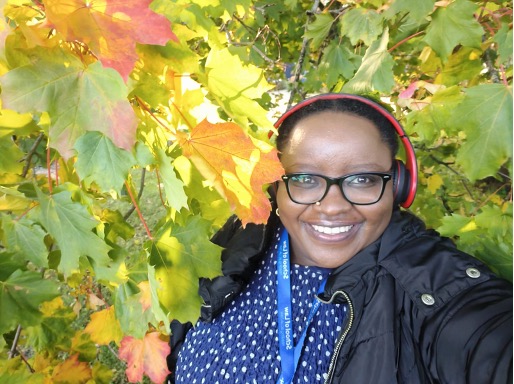 Deputy Director of the Law, Justice & Society Research Cluster
Coordinator of the Freshfields Stephen Lawrence Scholarship Scheme (2022/2023)
Areas of interest
Feminist approaches to Food and Environmental Justice
Feminist Legal Theories and Jurisprudence
Feminist approaches to Business and Human Rights
Socio-legal and empirical methodologies
Public Health Law and Human Rights
Epistemic injustice
Law and Race
Postgraduate supervision
Beth welcomes PhD applications that fall with her areas of interest.
Teaching
Beth currently teaches on the following modules:
Land Law
Company Law
Law and Society
Legal Skills
Research centres and groups
Socio-Legal Studies Association
Society of Legal Scholars
Background
Dr Beth Wangarĩ Kamunge-Kpodo is a socio-legal scholar of (Black)feminist approaches to food and environmental justice. Beth also has interests in debates around inequalities in knowledge production. Beth's research and methodologies are necessarily inter-disciplinary, drawing from critical insights in Law, Philosophy, Sociology, Human Geography and International Development.
Beth read Law at the University of Sheffield (LL.B Hons.) where she was a holder of a prestigious Academic Merit scholarship for her full degree. Beth then proceeded to undertake an LL.M in Public International Law(Human Rights pathway) also at the University of Sheffield's School of Law. Her LL.M research project evaluated the case for Women's Rights Based Approaches to sustainable development in the Horn of Africa. Beth qualified for, and was called to the Bar in Kenya as an Advocate of the High Court of Kenya (currently non-practicing) having passed the Bar Training Course at the Kenya School of Law with Distinction. After 5 years of involvement in public interest litigation, and research and advocacy work with Indigenous communities in Sub-Saharan Africa, Beth returned to academia for an empirical PhD at the University of Sheffield, that explored (Black)feminist conceptualisations of Food Justice and Rights.
Prior to joining the University of Reading as a Lecturer in Law, Beth was a Senior Research Associate at the Centre for Health, Law and Society in the University of Bristol's School of Law, where she had also worked as a Teaching Fellow in Law immediately after the award of her PhD.
Selected publications
Research outputs
2022
John Coggon, Beth Kamunge-Kpodo, The legal determinants of health (in)justice, Medical Law Review, Volume 30, Issue 4, Autumn 2022, Pages 705–723, https://doi.org/10.1093/medlaw/fwac050
Invited chair of panel, 'The proper place and visibility of value judgements in public health policy and practice' (2022, May 23rd). Details available here:https://ukpandemicethics.org/conference-the-proper-place-and-visibility-of-value-judgments-in-public-health-policy-and-practice/
Invited panellist, 'Building public values into pandemic recovery & preparedness' workshop. (2022, May 18th). Attlee Suite, Portcullis House, House of Commons
Invited panellist, Socio Legal Studies Association (SLSA) conference April 2022. Panel on Disability and health (in)Justice. Invite from Dr Lucy Series, University of Cardiff.
Beth Kamunge, 'Place and health inequalities: An ethical framework for developing and evaluating policy'. (Briefing report, UK Pandemic Ethics Accelerator). Available here:https://ukpandemicethics.org/wp-content/uploads/2022/04/Place-IF.pdf
2021
2019
Invited keynote speaker, Cambridge University, Christ Church College (February 2019). Invite from Professor Sarah Radcliffe- Department of Geography
Invited keynote panellist, Reimagining a liberated curriculum, Festival of Liberated Curricula, Common Ground Oxford, Worcester College, University of Oxford (February 2019
2018
Azeezat Johnson, Remi Joseph-Salisbury, & Beth Kamunge, (eds). The Fire Now: anti-racist scholarship in times of explicit racial violence. (Zed Books 2018).
2017
Invited panellist: Black Feminisms, Belonging and the Nation: Citizenship and Rights, Birmingham City University, (2017, March). Invite from Dr Lisa Palmer.
Beth Kamunge, Remi Joseph-Salisbury, & Azeezat Johnson, 'Changing our fates in The Fire Now' in Azeezat Johnson, Remi Joseph-Salisbury, & Beth Kamunge (eds), The Fire Now: Anti-racist scholarship in times of explicit racial violence. (Zed Books 2018). (pp. 1-12)
Beth Kamunge, Wambui Mwangi, & Osop Abdi Ali, 'Writing in the Fire Now: Beth dialogues with Wambui and Osop' in Azeezat Johnson, Remi Joseph-Salisbury, & Beth Kamunge (eds), The Fire Now: Anti-racist scholarship in times of explicit racial violence. (Zed Books 2018) (pp. 189-197)